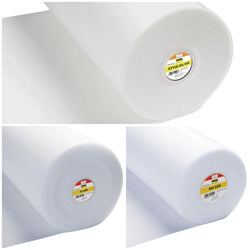 VLIESELINE Interfacing Bundle: 3 x 1m: H640, HH650, Style-Vil Fix
SKU: NM_60_40006481
Vlieseline H640 Fusible Fleece:
Soft, thicker iron-on volume fleece for topstitch and quilts, relief work such as tiebacks, as well as for warm clothing. Light to medium weight fabrics such as cotton and synthetics. Machine washable at 40 on synthetic cycle. Also dry cleanable

1m x 90cm wide

Vlieseline HH650 Double-Sided Fusible Fleece:
Lightweight batting, fusible on both sides, joining two fabrics in one step; made of synthetic fibres.  For quilting, creative needlework and warm clothing such as jackets and coats. 

Suitable for light- to mediumweight fabrics.

Fabrics can be fused to both sides of the fleece.
Machine washable at 30 degrees on synthetic cycle.
Dry cleanable.

1m x 150cm wide

Vlieseline Style-Vil Fix Fusible Foam

:
Voluminous fusible foamed interlining laminated with wefts on both sides and made of synthetic materials with high abrasion resistance.

Use for creative needlework with 3D effects; for the padding of protective pouches for mobile phones and glasses as well as for the stabilisation of bags, garments (e.g. shoulder pads), caps, hats etc.

Suitable for all fabrics.

Press on the iron, step-by-step for about 12 seconds, using a damp cloth. Do not push.

Washable at 30 degrees and dry cleanable.

Moderate heat iron.

1m x 72cm wide
Postage and packing is charged according to the weight of your parcel and will be calculated at checkout. Taking into account the average cost of postal charges made to us, as well as processing, cutting, packing and administration.
Drop shipping is a supply chain management method in which the retailer does not keep goods in stock but instead transfers its customer's orders and shipment details to either the manufacturer, another retailer, or a wholesaler, who then ships the goods directly to the customer.
How do I know if my order is drop ship? Where you see another manufactures, suppliers or designers name displayed above the product titles, other than 'Natasha Makes' your order will be drop ship and delivered directly by another manufacturer, retailer, or wholesaler. 
A Drop shipped item can take up to 3 - 5 days on top of the estimated delivery time on all products.