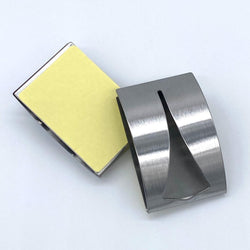 TOOL WITH "Tool for Inserting Zip Pulls onto Zipper Tape" INSTRUCTIONS: Includes Zip Pull Tool
SKU: NM_60_40004273
Ever struggled to get the zip pull onto your zipper tape?  I use the towel holder method, as recommended by Lisa Lam.
Slot the zip pull 

into the towel holder,

 curved side up, facing away from yo

u (this holder is a precise one, not all work the same)

Open the 

zipper tape 

up a good amount

Insert the sides of the zip at an angle, with the front of the zip teeth facing away from you
Take hold of the zip both sides and give it a wiggle
Once the pull is on, if you are using zipper tape with nylon teeth, pop a stitch either end of the zipper tape (across the nylon teeth), so that your pull cannot slide off again.  Do not do this if your zipper tape has metal teeth! 

This will come with a Natasha Makes instruction sheet with step-by-step instructions and images.
Postage and packing is charged according to the weight of your parcel and will be calculated at checkout. Taking into account the average cost of postal charges made to us, as well as processing, cutting, packing and administration.
Drop shipping is a supply chain management method in which the retailer does not keep goods in stock but instead transfers its customer's orders and shipment details to either the manufacturer, another retailer, or a wholesaler, who then ships the goods directly to the customer.
How do I know if my order is drop ship? Where you see another manufactures, suppliers or designers name displayed above the product titles, other than 'Natasha Makes' your order will be drop ship and delivered directly by another manufacturer, retailer, or wholesaler. 
A Drop shipped item can take up to 3 - 5 days on top of the estimated delivery time on all products.