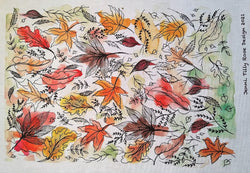 Tilly Rose: 'Be Your Own Kind of Beautiful' Digitally Printed Panel: 'Jenni' Autumn Leaves
SKU: NM_30_40005266
Introducing Tilly's new range of digitally printed panels...
Tilly's 'Be Your Own Kind of Beautiful' range encompasses her love for nature, her connection to Mother Earth and the beauty of the seasons that surround us throughout the year.
Each design has been taken from one of her own watercolours and digitally printed in the UK onto luxury sustainable BCI 100% Panama Cotton.
Each panel can be used quite simply as a piece of designed cloth for sewing projects or for those wanting a little extra creativity, can be used for textile art, painting, embellishing and slow stitching.
There are NO RULES to follow. Be as creative as you dare...
* Slow Stitch * Paint * Free Motion Embroidery * Applique * Textile Collage * Surface Embroidery *
Each panel measures approx A3 in size (15" x 17" / 40cm x 47cm)
*HANDWASH ONLY*
As seen on Natasha Makes, Friday 25th February 2022
Postage and packing is charged according to the weight of your parcel and will be calculated at checkout. Taking into account the average cost of postal charges made to us, as well as processing, cutting, packing and administration.
Drop shipping is a supply chain management method in which the retailer does not keep goods in stock but instead transfers its customer's orders and shipment details to either the manufacturer, another retailer, or a wholesaler, who then ships the goods directly to the customer.
How do I know if my order is drop ship? Where you see another manufactures, suppliers or designers name displayed above the product titles, other than 'Natasha Makes' your order will be drop ship and delivered directly by another manufacturer, retailer, or wholesaler. 
A Drop shipped item can take up to 3 - 5 days on top of the estimated delivery time on all products.