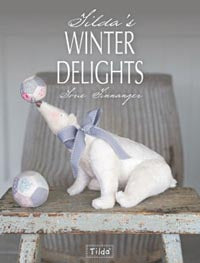 Tilda's Winter Delights
SKU: 9781446304006
Create beautiful dolls and accessories for winter using the latest Tilda fabrics. From pretty skating angels in warm fur coats to chalet girls with cosy knitted jumpers, these new Tilda designs celebrate the winter season in style. Transform pentagons and hexagons into mini patchwork balls and tablemats, or make a quilt or cushion with beautiful Tilda fabrics. Hanging santas, paper angels and Christmas stockings are perfect festive decorations for your home, and there are adorable polar bears to delight the little ones!
The latest title from best-selling author Tone Finnanger
Projects offer ideas for the brand new range of Tilda fabrics and products
Includes brand new 'character' designs
Postage and packing is charged according to the weight of your parcel and will be calculated at checkout. Taking into account the average cost of postal charges made to us, as well as processing, cutting, packing and administration.
Drop shipping is a supply chain management method in which the retailer does not keep goods in stock but instead transfers its customer's orders and shipment details to either the manufacturer, another retailer, or a wholesaler, who then ships the goods directly to the customer.
How do I know if my order is drop ship? Where you see another manufactures, suppliers or designers name displayed above the product titles, other than 'Natasha Makes' your order will be drop ship and delivered directly by another manufacturer, retailer, or wholesaler. 
A Drop shipped item can take up to 3 - 5 days on top of the estimated delivery time on all products.