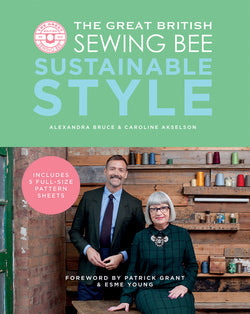 The Great British Sewing Bee: Sustainable Style
SKU: 9781787135369
by Caroline Akselson and Alexandra Bruce

The companion book to the sixth series of this flagship BBC2 show, The Great British Sewing Bee: Sustainable Style accompanies sewers at all levels on their creative journey to reduce, reuse and recycle - ultimately creating their own considered closet.
Starting with the essentials, sewers will learn how to maintain and care for their sewing machine, find out the secrets to using an overlocker (and what to do if you don't have one) and the key to pattern matching. With a guide that demystifies the fitting process, and with expert sewing tips on making alterations, you'll be able to choose from 27 projects, for both women and men, that will ease you into the world of sustainable sewing.
For burgeoning dressmakers, this book showcases a vast array of sustainable and natural fabrics, reveals how to breathe life into old garments and entices the would-be sewer to dress handmade. Interspersed with sustainable tips from advice on keeping an eco-friendly sewing space and how to better care for your garments, to guidance on recycling old clothes, using up fabric scraps and making repair, this book is an indispensable reference to a more considered approach to sewing, that will encourage you to create long-lasting projects to cherish.
The book includes five full-sized pattern sheets with 27 projects for women (sizes 8-22) and men (sizes XS XL).
About Caroline Akselson and Alexandra Bruce

Alexandra Bruce and Caroline Akselson run an independent, London-based sewing company. Having both studied costume design, they have a wealth of combined knowledge on garment construction and have independently worked for a number of high-profile clients, including Lulu Guinness, Kate Spade, the Hamilton musical and the Aladdin musical. They teach and speak about sewing and sustainability throughout London, inspiring people to make their own clothes and lead a more sustainable life through sewing.
Postage and packing is charged according to the weight of your parcel and will be calculated at checkout. Taking into account the average cost of postal charges made to us, as well as processing, cutting, packing and administration.
Drop shipping is a supply chain management method in which the retailer does not keep goods in stock but instead transfers its customer's orders and shipment details to either the manufacturer, another retailer, or a wholesaler, who then ships the goods directly to the customer.
How do I know if my order is drop ship? Where you see another manufactures, suppliers or designers name displayed above the product titles, other than 'Natasha Makes' your order will be drop ship and delivered directly by another manufacturer, retailer, or wholesaler. 
A Drop shipped item can take up to 3 - 5 days on top of the estimated delivery time on all products.