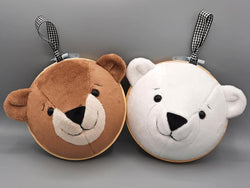 Jo Carter
Jo Carter 'Teddy Bear and Polar Bear Hoopy Heads' Kit
SKU: GST-JC-50-4000124
Exclusive to Natasha Makes for the month of December 2020
We are excited to be the very first to bring these BRAND NEW super-cute kits to you, created by the wonderful Jo Carter.

Teddy Bear and Polar Bear Kit Contains:
Pattern booklet
Template sheets
Mid brown smooth fur fabric (approx 35cm / 14in square)
Beige smooth fur fabric (approx 20cm x 10cm / 8in x 4in)
White smooth fur fabric (approx 35cm / 14in square)
2 x Black smooth fur fabric for nose (approx 6cm / 2.5in square)
2 x Lining fabric (approx 25cm / 10in square)
Packet of of 12mm black plastic eyes
Black embroidery thread
2 x 6in embroidery hoop
2 x 25cm lengths of 12mm wide ribbon
The hoop/head size is 6in, with a complete finished size (measuring from the top of the ribbon to the bottom of the hoop) of around 10in/25cm. Simply add toy stuffing (available separately).
AS SEEN ON NATASHA MAKES: 8th December 2020

Postage and packing is charged according to the weight of your parcel and will be calculated at checkout. Taking into account the average cost of postal charges made to us, as well as processing, cutting, packing and administration.
Drop shipping is a supply chain management method in which the retailer does not keep goods in stock but instead transfers its customer's orders and shipment details to either the manufacturer, another retailer, or a wholesaler, who then ships the goods directly to the customer.
How do I know if my order is drop ship? Where you see another manufactures, suppliers or designers name displayed above the product titles, other than 'Natasha Makes' your order will be drop ship and delivered directly by another manufacturer, retailer, or wholesaler. 
A Drop shipped item can take up to 3 - 5 days on top of the estimated delivery time on all products.