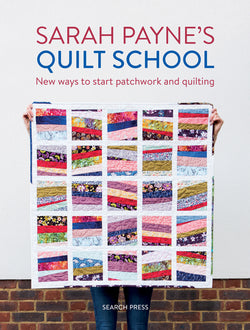 Sarah Payne's Quilt School
SKU: SP_90_9781782217305
New ways to start patchwork and quilting by Sarah Payne
Step into Sarah Payne's world of sewing and learn from the expert the basics of quilting and patchwork.
In this fun and practical introduction to patchwork and quilting, well-known TV personality Sarah Payne leads you through a series of techniques to build up your skills.
Each chapter includes a number of different-sized step-by-step projects, including quilts, cushions, tote bags and table runners. Sarah discusses different shapes (squares, circles, triangles) and different techniques (appliqué, piecing blocks and curved piecing) in turn. She also includes information on basting, layering, quilting and binding, as well as pre-cuts.
Filled with guidance and helpful tips and tricks, this book will equip you with all you need to know to get started on your quilting adventure. Put your skills into practice and at the same time create beautiful projects to keep or give as gifts.
Postage and packing is charged according to the weight of your parcel and will be calculated at checkout. Taking into account the average cost of postal charges made to us, as well as processing, cutting, packing and administration.
Drop shipping is a supply chain management method in which the retailer does not keep goods in stock but instead transfers its customer's orders and shipment details to either the manufacturer, another retailer, or a wholesaler, who then ships the goods directly to the customer.
How do I know if my order is drop ship? Where you see another manufactures, suppliers or designers name displayed above the product titles, other than 'Natasha Makes' your order will be drop ship and delivered directly by another manufacturer, retailer, or wholesaler. 
A Drop shipped item can take up to 3 - 5 days on top of the estimated delivery time on all products.