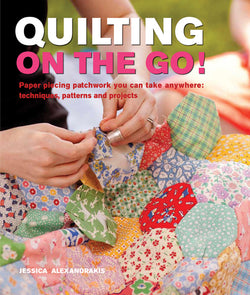 Quilting On The Go! by Jessica Alexandrakis
SKU: 9781844489022
Paper piecing patchwork you can take anywhere: techniques, patterns and projects.
Maybe you have the urge to sew but don't want to be stuck behind your sewing machine all the time - English paper piecing quilting is wonderfully portable. You can stitch on the train, bus, or aeroplane, in waiting rooms, in the car while your baby naps, or at the beach - all the stolen moments when your hands are idle.
Learn to build a tool kit with everything you need to get stitching. When you're done, just snap it shut and your project is safe and waiting for when you're ready to sew again. Clear explanations and step-by-step photography will have you stitching in no time and, before you know it, beautiful patterns will materialise from your fingers, which you can use to create a colourful quilt, a cushion, a bag, and much more.
Includes detailed instructions for preparing templates, basting techniques, joining pieces and finishing techniques, and with a myriad pattern to try, you'll find this book full of inspiration for you to find an idea and make it your own.
Table of Contents
Prelims: 5 pp Introduction: 2 pp
English Paper Piecing Then and Now: 6 pp
Getting Ready: 24 pp Starting to Sew: 36 pp
PROJECTS: 40 pp Patterns: 20 pp Project Templates: 6 pp
Resources: 2 pp Index and Credits: 3 pp
Postage and packing is charged according to the weight of your parcel and will be calculated at checkout. Taking into account the average cost of postal charges made to us, as well as processing, cutting, packing and administration.
Drop shipping is a supply chain management method in which the retailer does not keep goods in stock but instead transfers its customer's orders and shipment details to either the manufacturer, another retailer, or a wholesaler, who then ships the goods directly to the customer.
How do I know if my order is drop ship? Where you see another manufactures, suppliers or designers name displayed above the product titles, other than 'Natasha Makes' your order will be drop ship and delivered directly by another manufacturer, retailer, or wholesaler. 
A Drop shipped item can take up to 3 - 5 days on top of the estimated delivery time on all products.