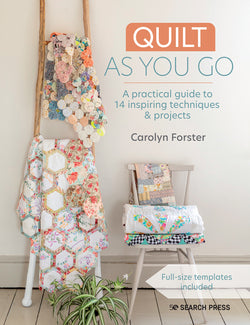 Quilt As You Go by Carolyn Forster
SKU: 9781782219408
The focus of this comprehensive and inspiring book is its 14 quilt-as-you-go techniques.
Choose from a variety of hand- and machine-sewn styles including stitch-and-flip, envelope-style, lined circles, Suffolk puffs and cathedral windows. Each technique is photographed step by step, and then each completed, discrete block can be transformed into a stunning quilt project, which comes complete with full instructions.
If you like taking your creative work with you when you travel, love the convenience of working in small, manageable blocks, or simply want to try out some different techniques before committing to a full-size quilt, this book will help you achieve remarkable results. All the templates required are included at full size.
Table of Contents
Introduction 6
Fabrics 10
Threads 12
Tools 14
Joining on a sewing machine 16
Joining on a sewing machine 26
Hand quilting and hand finishing 36
Sew and quilt in one go 46
Potholder quilts 54
Japanese folding technique 64
Stitch and flip with scraps 74
Envelope quilt 84
Manx log cabin 94
Layered squares with frayed edges 104
Lined circles 112
Cathedral windows 120
Suffolk puffs 128
Pojagi 134
Templates 140
Index 144
About Carolyn Forster
Carolyn Forster started making quilts when she was a teenager and went on to study Textiles at the University of Bath. Since graduating, she has taught patchwork and quilting both in the UK and the USA and has had her quilts featured in a number of books and magazines, including Fabrications, Popular Patchwork and Patchwork and Quilting. Carolyn lives in Tunbridge Wells, UK with her husband and son.
Visit Carolyn's website www.carolynforster.co.uk.
Postage and packing is charged according to the weight of your parcel and will be calculated at checkout. Taking into account the average cost of postal charges made to us, as well as processing, cutting, packing and administration.
Drop shipping is a supply chain management method in which the retailer does not keep goods in stock but instead transfers its customer's orders and shipment details to either the manufacturer, another retailer, or a wholesaler, who then ships the goods directly to the customer.
How do I know if my order is drop ship? Where you see another manufactures, suppliers or designers name displayed above the product titles, other than 'Natasha Makes' your order will be drop ship and delivered directly by another manufacturer, retailer, or wholesaler. 
A Drop shipped item can take up to 3 - 5 days on top of the estimated delivery time on all products.