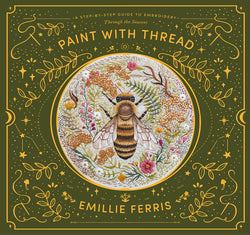 Paint with Thread by Emillie Ferris
SKU: 9781446308486
Slow down and embroider your way through the changing seasons with the beautiful debut book from embroidery artist and rising star Emillie Ferris.
Needlepainting, also known as thread painting or silk shading, is a form of embroidery that creates a realistic, lifelike effect using a single strand of thread and one simple stitch  the 'long and short' stitch. You can create gorgeous colour gradients, magical details and flowing stitch directions that are perfect if you want to embroider flora and fauna. 
Inspired by nature and the changing seasons, Emillie has created five new and exclusive patterns for the book, four that reflect each season in turn and one special design that brings the natural year together into one showstopper embroidery.
In this book Emillie generously shares her tried and tested tips and techniques, including advice on materials, transferring designs onto fabric, and fully illustrated explanations of the stitches and skills needed. The five in-depth projects draw on Emillie's love of nature, including motifs that she is best known for such as flowers, foliage, bees and toadstools. This book is the culmination of all of Emillie's skills and years of experience in this wonderful, meditative art form. Each design has around 60 detailed step-by-step photos, showing every stage of the process, so that even complete beginners can follow along and create beautiful embroideries. If you have been considering learning the art of needlepainting but are unsure where to start, then this book is for you! Plus, high quality iron-on transfers at the back of the book allow you to transfer the designs directly onto fabric up to ten times, with some wonderful bonus patterns for smaller motifs too.
This beautiful book will become an indispensable and treasured guide allowing you to paint with thread the Emillie Ferris way.
About Emillie Ferris
Emillie Ferris is a self-taught embroidery artist who has shot to fame due to her incredibly realistic depictions of animals and nature. She has over 180k followers on Instagram and is one of the leading names in British contemporary embroidery, despite being only 25 years of age. She lives in Warwickshire, UK, and is inspired by the natural landscape around her. She sells her patterns at kits on Etsy. This is her first book.
Postage and packing is charged according to the weight of your parcel and will be calculated at checkout. Taking into account the average cost of postal charges made to us, as well as processing, cutting, packing and administration.
Drop shipping is a supply chain management method in which the retailer does not keep goods in stock but instead transfers its customer's orders and shipment details to either the manufacturer, another retailer, or a wholesaler, who then ships the goods directly to the customer.
How do I know if my order is drop ship? Where you see another manufactures, suppliers or designers name displayed above the product titles, other than 'Natasha Makes' your order will be drop ship and delivered directly by another manufacturer, retailer, or wholesaler. 
A Drop shipped item can take up to 3 - 5 days on top of the estimated delivery time on all products.