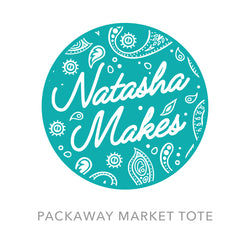 INSTRUCTIONS: Packaway Market Tote: PRINTED Version
SKU: NM_70-007a
We all love an impromptu shopping trip, but none of us like to be caught short without a shopping bag!
Inspired by Natasha's weekly visits to the farmer's market in Warwick, we have her Packaway Market Tote. Made using a half metre of 108" super-wide backing fabric, this handy tote bag folds down into its own internal pocket, making it ideal to slip into your handbag, car door, coat pocket etc. An eco-friendly and reusable alternative to a plastic bag, the Packaway Market Tote has both short and long handles and is deceptively roomy - perfect for stuffing full of goodies!

Postage and packing is charged according to the weight of your parcel and will be calculated at checkout. Taking into account the average cost of postal charges made to us, as well as processing, cutting, packing and administration.
Drop shipping is a supply chain management method in which the retailer does not keep goods in stock but instead transfers its customer's orders and shipment details to either the manufacturer, another retailer, or a wholesaler, who then ships the goods directly to the customer.
How do I know if my order is drop ship? Where you see another manufactures, suppliers or designers name displayed above the product titles, other than 'Natasha Makes' your order will be drop ship and delivered directly by another manufacturer, retailer, or wholesaler. 
A Drop shipped item can take up to 3 - 5 days on top of the estimated delivery time on all products.