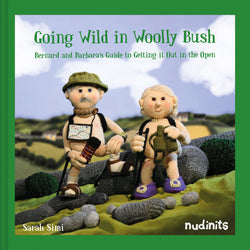 Nudinits: Going Wild in Woolly Bush by Sarah Simi
SKU: 9781911622598
Bernard and Barbara's guide to getting it out in the open by Sarah Simi
We all recognise the importance of getting out into nature for our physical and mental wellbeing and the mindfulness the countryside can provide. Bernard and Barbara, from the eccentric village of Woolly Bush, deep in the English countryside, are here to give you some helpful reflections on outdoor life. Woolly Bush has all the standard features of a typical village the cake shop, the war memorial, the vegetable show, the vicar apart from two big differences: it's all made of wool, and none of the characters have clothes on!
With all the usual bare-bottomed fun from Nudinits, brimming with double entendres and jollity, this outdoorsy set of pictures and comments will have you laughing out loud.
Bursting with British eccentricity and the odd bare bottom, this enchanting book will appeal to humour-lovers and knitting fans alike.
About Sarah Simi

Sarah Simi is a knitter extraordinaire and the creator, director and producer of Nudinits, the world's first all-knitted animation. She lives in Kent, UK.
Postage and packing is charged according to the weight of your parcel and will be calculated at checkout. Taking into account the average cost of postal charges made to us, as well as processing, cutting, packing and administration.
Drop shipping is a supply chain management method in which the retailer does not keep goods in stock but instead transfers its customer's orders and shipment details to either the manufacturer, another retailer, or a wholesaler, who then ships the goods directly to the customer.
How do I know if my order is drop ship? Where you see another manufactures, suppliers or designers name displayed above the product titles, other than 'Natasha Makes' your order will be drop ship and delivered directly by another manufacturer, retailer, or wholesaler. 
A Drop shipped item can take up to 3 - 5 days on top of the estimated delivery time on all products.