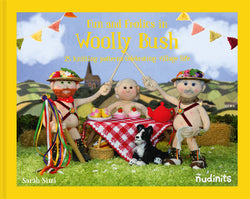 Nudinits: Fun and Frolics in Woolly Bush by Sarah Simi
SKU: 9781911622666
25 knitting patterns celebrating village life by Sarah Simi
Third book in the best-selling Nudinits series!

It's time to enjoy more bare-bottomed fun from Woolly Bush. Bernard and Barbara invite you to the Woolly Bush Carnival and all that entails  there's dancing round the maypole, a baking competition, vegetable growing, archery, farm animals and a dog show to enjoy. Patterns include Jim the farmer, his dog Willie and his pig and piglets, the chickens and cockerel as well as the village Vicar and his binoculars. Packed with lots of dinky objects to create your scene  from an archery set to a Battenberg slice and even a sausage in a bap.
Bursting with British eccentricity, double entendres and a lot of village fun, this craft book will appeal to knitting fans and humour-lovers alike.
About Sarah Simi

Sarah Simi is a knitter extraordinaire and the creator, director and producer of Nudinits, the world's first all-knitted animation. She lives in Kent, UK.
Postage and packing is charged according to the weight of your parcel and will be calculated at checkout. Taking into account the average cost of postal charges made to us, as well as processing, cutting, packing and administration.
Drop shipping is a supply chain management method in which the retailer does not keep goods in stock but instead transfers its customer's orders and shipment details to either the manufacturer, another retailer, or a wholesaler, who then ships the goods directly to the customer.
How do I know if my order is drop ship? Where you see another manufactures, suppliers or designers name displayed above the product titles, other than 'Natasha Makes' your order will be drop ship and delivered directly by another manufacturer, retailer, or wholesaler. 
A Drop shipped item can take up to 3 - 5 days on top of the estimated delivery time on all products.