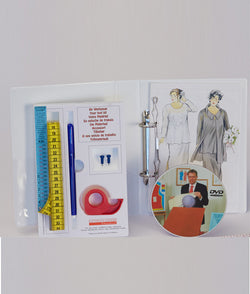 Lutterloh 'The Golden Rule' XL/XXL SIZE Pattern System - Delayed Despatch
SKU: NM_60_4000949
This item was very popular and is now out of stock. We are able to take more orders on a Delayed Despatch basis - please be patient while we import more stock for you!
Since 1935 Lutterloh's "The Golden Rule" allowed dressmakers to take their own measurements and create bespoke patterns, designed to fit.  If you have ever struggled with dressmaking and the dreaded bust adjustments, The Golden Rule is for you.
The XXL kit gives you the ability to create stylish and fashionable clothing for a fuller figure and contains:
The Golden Rule DVD
Detailed instruction book with sewing hints, fashion styles and 97 pattern designs
Special tape measure with sizing scale
2 pins
Pen
Roll of adhesive tape
Postage and packing is charged according to the weight of your parcel and will be calculated at checkout. Taking into account the average cost of postal charges made to us, as well as processing, cutting, packing and administration.
Drop shipping is a supply chain management method in which the retailer does not keep goods in stock but instead transfers its customer's orders and shipment details to either the manufacturer, another retailer, or a wholesaler, who then ships the goods directly to the customer.
How do I know if my order is drop ship? Where you see another manufactures, suppliers or designers name displayed above the product titles, other than 'Natasha Makes' your order will be drop ship and delivered directly by another manufacturer, retailer, or wholesaler. 
A Drop shipped item can take up to 3 - 5 days on top of the estimated delivery time on all products.