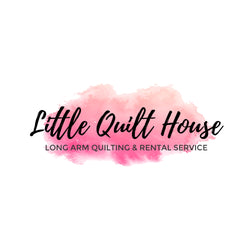 Little Quilt House Gift Card
SKU: NM_QUILTHOUSE_GIFTCARD_20
PLEASE STATE YOUR NATASHA MAKES ORDER ID WHEN PLACING YOUR ORDER WITH THE LITTLE QUILT HOUSE TO REDEEM YOUR GIFT CARD.
Gift Card credit towards Long Arm Quilting Services from Amanda Little at the Little Quilt House.
https://littlequilthouse.co.uk/services/quilting-service/
Gift card credit is redeemable against edge-to-edge quilting services only and cannot be used in conjunction with any other offer, discount or promotion.
All prices, products and services are subject to change without prior notification.
Gift card credit is valid for a period of 12 months from the date of purchase and cannot be redeemed after expiry date.
No change or credit given in the event that the Gift Card value exceeds the total cost of the edge-to-edge quilting service – for example where a £100 voucher is used to purchase a £95 quilting service. If the quilting service cost exceeds the amount of the gift voucher, the balance must be paid in full at the point of collection of the completed quilt.
Gift Card credit is non-transferable and cannot be exchanged for cash.
Lost, stolen or destroyed Gift Cards will not be exchanged or refunded.  Fortunately, physical Gift Cards will not be issued - simply state your Natasha Makes Order ID when placing your order with the Little Quilt House in order to redeem your Gift Card credit.
Postage and packing is charged according to the weight of your parcel and will be calculated at checkout. Taking into account the average cost of postal charges made to us, as well as processing, cutting, packing and administration.
Drop shipping is a supply chain management method in which the retailer does not keep goods in stock but instead transfers its customer's orders and shipment details to either the manufacturer, another retailer, or a wholesaler, who then ships the goods directly to the customer.
How do I know if my order is drop ship? Where you see another manufactures, suppliers or designers name displayed above the product titles, other than 'Natasha Makes' your order will be drop ship and delivered directly by another manufacturer, retailer, or wholesaler. 
A Drop shipped item can take up to 3 - 5 days on top of the estimated delivery time on all products.