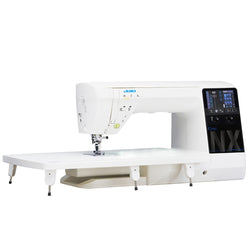 JUKI HZL-NX7 Kirei Sewing Machine
SKU: JUKIHZL-NX7
This machine is currently out of stock with our supplier - we appreciate your patience whilst waiting for more stock to arrive

The next generation in JUKI Home Sewing Machines is setting a new standard with 12" of sewing space, digital tension, JUKI Smart Feed, and an interchangeable single needle system.

Continuing JUKI's characteristic of commitment to high performance and functions, the HZL-NX7 Kirei (kee-ray) provides a wide sewing area, touchscreen interface, and a multitude of other functions!
The HZL-NX7 was crowned with the name "Kirei" meaning "beautiful", as a reflection of JUKI's Japanese heritage. With captivating beauty, Kirei will bring high quality and reliability to all of your sewing and quilting projects. Beautiful form, beautiful function.
Features
Colour Touch Panel: Allowing you to change settings such as thread tension, presser foot pressure, pivot function, drop feed system, and automatic thread trimming with one touch. Additionally, you may select, combine, and save your favourite stitches on an easy-to-use, full-screen list of stitches!
Easy to Use Digital Tension: Needle thread tension can easily be set on the touch panel screen and stored in memory. Recall your favourite tension settings with the touch of a button!
Large Illuminated Workspace: Dual LED lighting to illuminate 22.4" x 13.6" workspace with an addition of 2 lights over the needle for extra light. The level of brightness can be adjusted.
Presser Foot Pivot Function: Sew corners or pivot with ease, when you stop sewing, the needle stops in the down position and the presser foot automatically lifts to allow for fabric movements.
Free Motion: Lower the feed dogs with the touch of a button for smooth and effortless free-motion sewing.
Interchangeable Straight Stitch Feed System: Effortlessly switch to perfect straight stitch sewing with a revolutionary interchangeable Feed System. Create perfect stitches from beginning to end. No pulling, bunching, or pushing fabrics into the needle opening. Smooth handling for perfect piecing, close edges, curves, layers, and more. Perfection!
Buttonhole Sensor System: With Juki's combination of industrial and modern technology, this system automatically measures and evenly sews on both the right and left sides to create beautiful buttonholes.
Equipped with JUKI Smart Feed: Engage the JUKI Smart Feed dual feed function to move the top layer of your fabric in sync with the lower layer. Adjust the feed amount by 0.2mm for beautiful stitching without the worry of shifting layered fabrics.
Automatic Thread Trimming: With the push of a button or the click of a heel, you can now automatically trim thread.
Specifications
Sewing Speed: 1050 SPM
Needle Type: 130R / 705H
No. of Stitches: 351
No. of fonts: 4 alphabetic and numeric fonts
Max. Zig Zag Width: 7mm
Max. Stitch Length: 5mm
No. of Buttonholes: 20
Presser Foot Lift: Electronic
Adjustable Foot Pressure: Yes
Bobbin Type: 15 Class
Machine Weight: 33lbs
Dimensions: 23"W) x 12"(H) x 9.5"(D
Accessories
Standard Presser Foot (Part no. 40057923)
Zipper Presser Foot (Part no. A9823-010-0A0)
Overcasting Presser Foot (Part no. 40080960)
Blind Stitch Presser Foot (Part no. 40112904)
Buttonhole Presser Foot (Part no. 40080966)
Manual Buttonhole (Part no. 40112905)
Open Toe Presser Foot (Part no. 40080962)
Patchwork Presser Foot (Part no. 40080959)
Quilt Guide (Part no. A9833-550-0A0)
7mm Guide Foot (Part no. 400800952)
1/4" Guide Foot (Part no. 40164071)
Quilt Presser Foot (for ruler)
Straight Stitch Throat Plate
Straight Feed Dog
Touch Pen
Auxiliary Box
Needle Set
Quilt Guide
Auxiliary Spool Pin
T-Shape Screwdriver
Ripper
Cleaning Brush
Spool Caps (Small, Medium, Large)
Foot Controller
Knee-Lifting Lever
Power Cord
Wide Table
Sewing Machine Case
Postage and packing is charged according to the weight of your parcel and will be calculated at checkout. Taking into account the average cost of postal charges made to us, as well as processing, cutting, packing and administration.
Drop shipping is a supply chain management method in which the retailer does not keep goods in stock but instead transfers its customer's orders and shipment details to either the manufacturer, another retailer, or a wholesaler, who then ships the goods directly to the customer.
How do I know if my order is drop ship? Where you see another manufactures, suppliers or designers name displayed above the product titles, other than 'Natasha Makes' your order will be drop ship and delivered directly by another manufacturer, retailer, or wholesaler. 
A Drop shipped item can take up to 3 - 5 days on top of the estimated delivery time on all products.