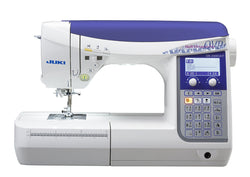 JUKI DX-2000 QVP Sewing Machine **Ex-Demonstration**
SKU: JUKI_80_DX200QVP-EXDEM
Exclusive to Natasha Makes, we have a limited number of ex-demonstration or ex-display Juki HZL-DX7 sewing machines. This is your opportunity to own a DX-2000 QVP at a reduced price. These machines will come complete with a 2 year Juki warranty.

Innovative functions are realized through the fusion of Industrial and Home Sewing Technology. Experience the machine and stitch quality that only the largest Industrial Sewing Machine Company in the world can offer. Release yourself from the stress of working towards perfection and enjoy the new Smart Sewing Operation System with customizable operations to fit your sewing needs.
QVP Kit included: (worth £163.70)

Large thread stand
Applique foot
Pearl foot
Free-motion cording foot
Cording foot
Foot with guide
Box Feed Industrial Sewing Machine Technology
Straight Stitch Slide Plate - NEW
Float Function Prevents Uneven Seams - NEW
Pressure Foot Pivot Function - NEW
Powerful Feed
Foot Control with Thread Trimming Function or Auto Reverse - NEW
Industrial Quality Buttonholes
Cutting Width Adjustment of the Buttonholes
Perfect Stitch Quality
Capability to sew from light to heavyweight materials
Wide Sewing Space
Direct Stitch Pattern Selection
Stitch Adjustment Dial
Corner Sewing Applique -  NEW
287 Sewing Patterns
3 Fonts (Lower & Uppercase)
Walking Foot & Knee Lift Included
Buttonhole Sensor
Use the buttonhole sensor system for optimal feed on all types of fabric. You will love the one-step buttonhole as it measures and evenly sews on both the right and the left sides.
Straight Stitch Slide Plate
Simply slide the front lever to switch to a single needle hole. Sew the lightest fabrics with perfect needle permeation. The single needle plate will not allow fabrics to be pushed into the needle hole. Free motion stitch with precision and perfection. Sew with confidence, when the single needle hole plate is set, only the straight stitch patterns can be selected.
Float Function Prevents Uneven Seams
By pressing the float button, you can sew with the presser foot slightly raised. By raising the presser foot to float you can sew fabrics without pushing layers or creating uneven seams. This is effective when quilting and sewing appliques. The height of the presser foot can be set from 0 to 2.5mm in increments of 0.1 mm.
Large sewing space
Enjoy extra space and comfort by adding the accessory table while quilting.
Automatic Presser Foot Lifting After Thread Trimming / Presser Foot Pivot Function
Because the presser foot is automatically lifted after automatic thread trimming, you can quickly remove fabrics. And when you stop sewing, the needle stops in the down position and presser foot automatically lifts to allow for fabric movement. Sew corners or pivot with ease, when you resume sewing the presser foot automatically and quickly lowers for continuous smooth sewing
Box Feed – JUKI Industrial Sewing Machine Technology
The box feed technology moves your fabric to allow you to create perfect high-quality stitches on all types of fabrics. The box feed system stays in contact with your fabrics longer for a consistent, reliable seam every time. Piece perfectly without worries of shifting or sliding fabrics.
Postage and packing is charged according to the weight of your parcel and will be calculated at checkout. Taking into account the average cost of postal charges made to us, as well as processing, cutting, packing and administration.
Drop shipping is a supply chain management method in which the retailer does not keep goods in stock but instead transfers its customer's orders and shipment details to either the manufacturer, another retailer, or a wholesaler, who then ships the goods directly to the customer.
How do I know if my order is drop ship? Where you see another manufactures, suppliers or designers name displayed above the product titles, other than 'Natasha Makes' your order will be drop ship and delivered directly by another manufacturer, retailer, or wholesaler. 
A Drop shipped item can take up to 3 - 5 days on top of the estimated delivery time on all products.