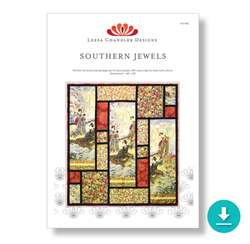 INSTRUCTIONS: Leesa Chandler 'Southern Jewels' Quilt Pattern: DIGITAL DOWNLOAD
SKU: NM_70_40006785D
How many times have you come across a beautiful large print featuring a scene and flowers, and you think "I really want to make a quilt with this, but I couldn't possibly cut it up!"? This quilt is designed for just such an occasion and allows you to showcase large panels of fabric, intertwined with medium and small scale coordinates. You could also use the design to display large vases of appliquéd flowers in the large panels or perhaps a Kimono silk or two!
Whatever you decide the piecing is fun and quick and easy, so have a great time with the project." - Leesa
Finished quilt dimensions: approx 56" x 50"
Full colour instructions, instant digital download

All purchases of patterns and instructions are final and cannot be returned or refunded
Project Requirements (not included - available to purchase separately)
:
Main Feature Panels: 2 x 24" Panels or 1 1/2yd / 1.35m
Large Panels: 24" / 60cm (Bottom Left and Top Right - where Geisha Print is in Leesa's sample)

1st coordinate: 1/2 yd / 45cm (leaves)
2nd coordinate: 20" / 50cm (red floral)
Sashing: 30" / 75cm (plain black)
Backing: 2 1/2yd / 2.25m if using and piecing together 44" wide fabric
As seen on Natasha Makes: Wednesday 3rd August 2022
Postage and packing is charged according to the weight of your parcel and will be calculated at checkout. Taking into account the average cost of postal charges made to us, as well as processing, cutting, packing and administration.
Drop shipping is a supply chain management method in which the retailer does not keep goods in stock but instead transfers its customer's orders and shipment details to either the manufacturer, another retailer, or a wholesaler, who then ships the goods directly to the customer.
How do I know if my order is drop ship? Where you see another manufactures, suppliers or designers name displayed above the product titles, other than 'Natasha Makes' your order will be drop ship and delivered directly by another manufacturer, retailer, or wholesaler. 
A Drop shipped item can take up to 3 - 5 days on top of the estimated delivery time on all products.