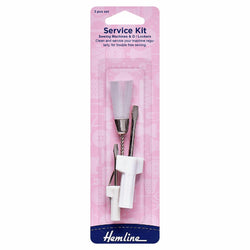 HEMLINE: Sewing Machine Service Kit
SKU: NM_60_4000899
Regular home maintenance is essential care for your sewing machine and overlocker. This handy kit will equip you well to care for your sewing machine and overlocker at home, helping them to keep operating at peak performance.
The large screwdriver can be used to loosen and tighten the needle and presser foot holder screws. It can also be used to unscrew the throat plate for easy removal of the bobbin and bobbin case.
Use the generous size soft cleaning brush to clean fluff and debris from the bobbin race and feed dogs.
The smaller screwdriver can be used to adjust the tension screw on the bobbin case. (NB: use a separate bobbin case for specialist stitching that can be adjusted)

Postage and packing is charged according to the weight of your parcel and will be calculated at checkout. Taking into account the average cost of postal charges made to us, as well as processing, cutting, packing and administration.
Drop shipping is a supply chain management method in which the retailer does not keep goods in stock but instead transfers its customer's orders and shipment details to either the manufacturer, another retailer, or a wholesaler, who then ships the goods directly to the customer.
How do I know if my order is drop ship? Where you see another manufactures, suppliers or designers name displayed above the product titles, other than 'Natasha Makes' your order will be drop ship and delivered directly by another manufacturer, retailer, or wholesaler. 
A Drop shipped item can take up to 3 - 5 days on top of the estimated delivery time on all products.