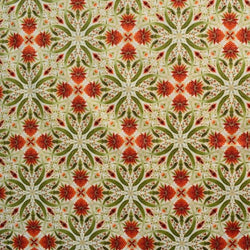 HALF BOLT SALE: Leesa Chandler | Melba 'Tile' 0002 8 Cream Orange Gold: 4.5 metres
SKU: NM_30_3000386
Melba Kaleidoscope Print - Inspired by Pressed Tin Ceilings, Mosaics and Textiles from the 1920s.
This 12" repeat tile or kaleidoscope print features Waratahs set on point with a central Flannel flower motif and further details using Sturt Desert Peas, Wax flowers, Gumflowers and Wattle blossoms. It is designed in a way that you can cut sections on the straight grain or on point, with the Waratahs in the centre of - or on the outer corners of - a 12" square or multiples of the design for a larger block. It also makes for an excellent 12" or 6" border.
In this particular Australis colour story on light cream background features rich shades of merlot, burnt oranges, leaf and sage greens with highlights in ivory and metallic gold.
HALF BOLT SALE: Approx 4.5 metres

Fabrics are manufactured in Japan and are of the highest quality
Perfect for patchwork, quilting, dressmaking and home decor

Fabric Colours: Cream, Orange, Gold

Cultural Influence: 

Australian
Postage and packing is charged according to the weight of your parcel and will be calculated at checkout. Taking into account the average cost of postal charges made to us, as well as processing, cutting, packing and administration.
Drop shipping is a supply chain management method in which the retailer does not keep goods in stock but instead transfers its customer's orders and shipment details to either the manufacturer, another retailer, or a wholesaler, who then ships the goods directly to the customer.
How do I know if my order is drop ship? Where you see another manufactures, suppliers or designers name displayed above the product titles, other than 'Natasha Makes' your order will be drop ship and delivered directly by another manufacturer, retailer, or wholesaler. 
A Drop shipped item can take up to 3 - 5 days on top of the estimated delivery time on all products.