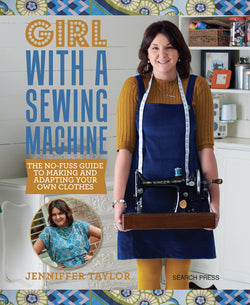 Girl with a Sewing Machine by Jenniffer Taylor
SKU: 9781782214564
The no-fuss guide to making and adapting your own clothes by Jenniffer Taylor.
This beautiful, instructive book from The Great British Sewing Bee's Jenniffer Taylor shows you how to make and adapt your own clothes without the need for shop-bought patterns. Using Jenniffer's fun and imaginative ideas, this book will teach you how to get started transforming unloved items of clothing into new and exciting outfits; how to customise clothes with doilies, tassels, tie-dyeing and block printing; and finally how to measure yourself, create patterns and make clothes from scratch, including dresses, skirts, tops, trousers and a coat.

The book is packed with all the tricks of the trade that Jenniffer has learned along her sewing journey, and it will get you started on your own #sewingrevolution!
Table of Contents

:

Introduction

My sewing journey

Basic sewing kit

Sourcing clothes

Getting started

Pincushion

Scarf top

Jumper gloves and snood

Festival pouch

Customising your clothes

Doily detail on a T-shirt

Block printing and tie-dyeing on a shirt and jeans

Tassel T-shirt

Shirt reverse

Making clothes from scratch

Measuring yourself

Carousel skirt

Batwing dress

Kimono dress

Cross-back top

Sumer top with box pleats

Blanket coat

Gilet variation

Dunga dress

Dunga variation

Wrap trousers

Glossary

Index
Postage and packing is charged according to the weight of your parcel and will be calculated at checkout. Taking into account the average cost of postal charges made to us, as well as processing, cutting, packing and administration.
Drop shipping is a supply chain management method in which the retailer does not keep goods in stock but instead transfers its customer's orders and shipment details to either the manufacturer, another retailer, or a wholesaler, who then ships the goods directly to the customer.
How do I know if my order is drop ship? Where you see another manufactures, suppliers or designers name displayed above the product titles, other than 'Natasha Makes' your order will be drop ship and delivered directly by another manufacturer, retailer, or wholesaler. 
A Drop shipped item can take up to 3 - 5 days on top of the estimated delivery time on all products.