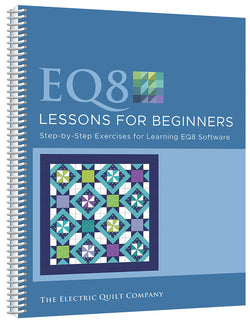 EQ8 Lessons for Beginners by The Electric Quilt Company
SKU: 9781893824928
This book is perfect for the new Electric Quilt 8 (EQ8) quilting design software user. The step-by-step lessons guide the reader through the basic tasks of drawing blocks, importing fabric scans and designing quilts. Lessons are easy to follow and cover all the basics of the software. Print patterns and yardage charts, learn to make quilt labels, design traditional and modern quilts, and have fun along the way! 

EQ8 has a fresh new look so this book is ideal for owners of previous versions of EQ. The exercises will steer the user through EQ8, demonstrating new features and uncovering old features that were hidden in previous versions of EQ. This is a must-have book for any EQ8 user!
Table of Contents
Introduction: Getting Started with EQ8
Chapter 1: Learning the EQ8 Basics
Lesson 1: Basics of the Quilt Worktable, Lesson 2: Basics of the Block Worktable, Lesson 3: Basics of the Image Worktable
Chapter 2: Quilt Worktable
Lesson 1: Understanding Layers in EQ, Lesson 2: Creating a Custom Quilt Layout from Scratch, Lesson 3: Creating a Custom Quilt from a Block, Lesson 4: Making a Quilt Label, Lesson 5: Using Pre-designed Quilt Labels, Lesson 6: Making a T-Shirt Quilt
Chapter 3: Block Worktable
Lesson 1: PolyDraw Basics for Pieced Blocks, Lesson 2: Eight Point Star Grid and the Polyline Tool, Lesson 3: Drawing Arcs with the PolyArc Tool, Lesson 4: Drawing Basics for Applique Blocks, Lesson 5: Applique Motif vs. Applique Block
Chapter 4: Important to Know Yet Just for Fun
Lesson 1: Creating Blocks with Serendipity, Lesson 2: Searching for Blocks by Categeory, Lesson 3: Searching for Fabrics by Color, Lesson 4: Understanding Rotary Cutting Charts in EQ, Lesson 5: Creating Your Own Default Project, Homework
Index
Postage and packing is charged according to the weight of your parcel and will be calculated at checkout. Taking into account the average cost of postal charges made to us, as well as processing, cutting, packing and administration.
Drop shipping is a supply chain management method in which the retailer does not keep goods in stock but instead transfers its customer's orders and shipment details to either the manufacturer, another retailer, or a wholesaler, who then ships the goods directly to the customer.
How do I know if my order is drop ship? Where you see another manufactures, suppliers or designers name displayed above the product titles, other than 'Natasha Makes' your order will be drop ship and delivered directly by another manufacturer, retailer, or wholesaler. 
A Drop shipped item can take up to 3 - 5 days on top of the estimated delivery time on all products.