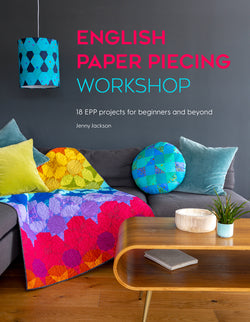 English Paper Piecing Workshop by Jenny Jackson
SKU: 9781446309049
Do you love bright, geometric quilt designs but wonder how to get such sharp points and accurate piecing? English paper piecing (EPP) is the answer, and this collection shows you how to sew your own patchwork projects even if you've never made a quilt before.
Jenny Jackson has created this collection of techniques and patterns for modern EPP projects for the home including some really striking, large quilts. There are 18 projects for the home in a variety of sizes so you can build up to a full-sized quilt but you can also dip in and out of some smaller projects such as coasters, wall hangings and cushions while you hone your skills.
The projects include repeats of EPP patterns and blocks as well as how to use EPP blocks and rosettes as appliqué within quilts and other projects. It's not just about the hexagon either: Jenny's geometric designs feature 20 different paper pieced templates including diamonds, octagons, and even curved shapes for really exciting results.
About Jenny Jackson
Jenny Jackson is an expert in English paper piecing and a celebrity in the sew and quilt community thanks to her role as a presenter on Hochanda.
As seen on Natasha Makes, Tuesday 12th April 2022
Postage and packing is charged according to the weight of your parcel and will be calculated at checkout. Taking into account the average cost of postal charges made to us, as well as processing, cutting, packing and administration.
Drop shipping is a supply chain management method in which the retailer does not keep goods in stock but instead transfers its customer's orders and shipment details to either the manufacturer, another retailer, or a wholesaler, who then ships the goods directly to the customer.
How do I know if my order is drop ship? Where you see another manufactures, suppliers or designers name displayed above the product titles, other than 'Natasha Makes' your order will be drop ship and delivered directly by another manufacturer, retailer, or wholesaler. 
A Drop shipped item can take up to 3 - 5 days on top of the estimated delivery time on all products.