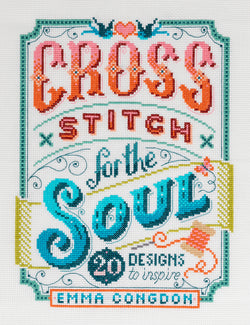 Cross Stitch for the Soul by Emma Congdon
SKU: 9781446308080
20 designs to inspire by Emma Congdon.

Cross Stitch for the Soul is a collection of beautifully-designed motivational and inspirational quotes rendered in easy cross-stitching techniques that will raise the spirits, both during the making process and beyond, as treasured pictures on the wall. Designed by leading cross stitch designer Emma Congdon, aka Stitchrovia, whose modern styling appeals to crafters of all ages and abilities, these inspiring quotes will provide comfort, motivation and an all-round positive spin on life, reminding us that we are brave, strong and have the power to make our own futures  one stitch at a time!
About Emma Congdon
Emma is a multidisciplinary designer based in London, UK. Her cross stitch designs are featured extensively in magazines in the US and UK such as Cross Stitcher, World of Cross Stitch and Cross Stitch Crazy. Alongside her commission-based work she also owns and runs her own cross stitch design business 'Stitchrovia'. Emma's iconic designs are universally loved by her fans. To see more of her work visit her Instagram @stitchrovia.
Postage and packing is charged according to the weight of your parcel and will be calculated at checkout. Taking into account the average cost of postal charges made to us, as well as processing, cutting, packing and administration.
Drop shipping is a supply chain management method in which the retailer does not keep goods in stock but instead transfers its customer's orders and shipment details to either the manufacturer, another retailer, or a wholesaler, who then ships the goods directly to the customer.
How do I know if my order is drop ship? Where you see another manufactures, suppliers or designers name displayed above the product titles, other than 'Natasha Makes' your order will be drop ship and delivered directly by another manufacturer, retailer, or wholesaler. 
A Drop shipped item can take up to 3 - 5 days on top of the estimated delivery time on all products.