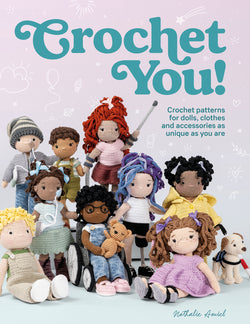 Crochet You! by Nathalie Amiel
SKU: 9781446309292
This collection of mix and match crochet patterns allows you to make bespoke dolls that represent the special people in your life.
Representation matters when it comes to dolls for children - every child should be able to see themselves reflected in a doll. Author and crochet designer, Nathalie Amiel, show you how to create a look-alike doll that captures the spirit of the individual with these amigurumi crochet patterns for dolls with different skin tones, hair types, body shapes, clothes and accessories.
Find patterns for a Down's syndrome doll and a doll with vitiligo, as well as a doll with prosthetic limbs; crutches; leg braces; hearing aids; feeding tubes and eyeglasses. The collection also includes crochet patterns for a wheelchair, an assistance dogs and a special teddy bear. There are step-by-step instructions and photographs for how to make the basic doll which can then be adapted using the other patterns. You can then choose the doll's clothing including underwear; t-shirt; pinafore; dungarees; trousers; skirt, jumper, and various shoes and boots.
About Nathalie Amiel
Nathalie Amiel is a designer/maker of custom-made crochet dolls. She has created thousands of bespoke dolls which represent the specific diversity and uniqueness of her clients. Her 'Build Your Own Doll' concept allows anyone to select a bespoke doll with different skin colours, hair type, outfits, body shapes and special accessories.
As seen on Natasha Makes, Friday 25th November 2022
Postage and packing is charged according to the weight of your parcel and will be calculated at checkout. Taking into account the average cost of postal charges made to us, as well as processing, cutting, packing and administration.
Drop shipping is a supply chain management method in which the retailer does not keep goods in stock but instead transfers its customer's orders and shipment details to either the manufacturer, another retailer, or a wholesaler, who then ships the goods directly to the customer.
How do I know if my order is drop ship? Where you see another manufactures, suppliers or designers name displayed above the product titles, other than 'Natasha Makes' your order will be drop ship and delivered directly by another manufacturer, retailer, or wholesaler. 
A Drop shipped item can take up to 3 - 5 days on top of the estimated delivery time on all products.