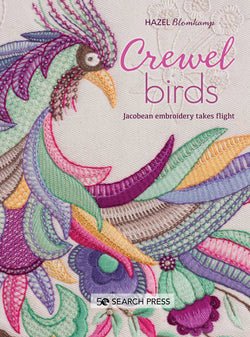 Crewel Birds by Hazel Blomkamp
SKU: 9781782218340
Jacobean embroidery takes flight...
In this fourth title in Hazel Blomkamp's series on crewel embroidery with a twist, the focus is on farm and game birds. The birds give a nod to current trends, most notably the Zentangle look with crewel-style filling-in stitches and techniques. Crewel Birds is a celebration of Hazel's signature techniques: a wide variety of surface/crewel stitches, some of which are brand new and many with a different take or different ways of combining stitches to make them more interesting.
Also included are needle lace techniques used as embroidery stitches, loom weaving techniques modified for embroidery and unique combinations of both of these. The incorporation of beads and crystals adds even more dazzle to the intricate designs. There are six projects, each explained with detailed step-by-step instructions and clear photographs, with design templates and a full stitch gallery providing everything readers need to recreate them with ease. The projects comprise a phoenix, rooster, common pheasant, mallard duck, flamingo and golden pheasant.
In addition to these sumptuous embroideries, Hazel explains how to hand quilt the backgrounds and finish the edges with binding to put them together in a book, as an alternative to framing. For embroiderers looking for something different and new to stitch, and for those keen to challenge themselves with more complex embroidery techniques, this book is a must-have.
Table of Contents
INTRODUCTION 8
GENERAL TIPS BEFORE STARTING 10
MATERIALS AND TOOLS 14
GENERAL PROJECT INSTRUCTIONS 19

STITCHES AND TECHNIQUES
Embroidery Stitches 26
Bead-Embroidery Stitches 51
Needlelace Techniques 55
Needle-Weaving Techniques 62

PROJECTS
Claude 73
Colin 85
Dave 105
Kevin 119
Dick 135
Nigel 155

TEMPLATES 168
Postage and packing is charged according to the weight of your parcel and will be calculated at checkout. Taking into account the average cost of postal charges made to us, as well as processing, cutting, packing and administration.
Drop shipping is a supply chain management method in which the retailer does not keep goods in stock but instead transfers its customer's orders and shipment details to either the manufacturer, another retailer, or a wholesaler, who then ships the goods directly to the customer.
How do I know if my order is drop ship? Where you see another manufactures, suppliers or designers name displayed above the product titles, other than 'Natasha Makes' your order will be drop ship and delivered directly by another manufacturer, retailer, or wholesaler. 
A Drop shipped item can take up to 3 - 5 days on top of the estimated delivery time on all products.