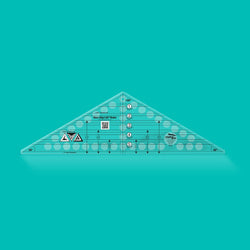 Creative Grids: CGR120R Non-Slip 120° Triangle Ruler
SKU: CGR120R
Use the straight side of this triple strip ruler to cut 1.5", 2.5"; and 3.5" strips or use with pre-cut jelly roll strips. Sew these strips together to create a 6.5" inch wide strip set. Rotate the ruler to cut 120° triangles that finish to a height of 6". Continue to rotate the ruler 180° to cut additional triangles without wasting fabric.
Easy to read black and white markings allow you to cut 2.5", 4.5" or 6.5" triangles.
A 1/4 inch dashed line is printed on each side of the centre vertical line, so you can cut 60° triangles that include the seam allowance, eliminating Y-seams.
The ruler comes with fully illustrated step-by-step instructions, or you can view a video demonstration of these features.
The ruler slides easily over the fabric until pressure is applied, then Creative Grids' exclusive gripper holds the fabric in place while cutting, eliminating slipping and mis-cuts.
Total size: 6.5" x 21.5"
Postage and packing is charged according to the weight of your parcel and will be calculated at checkout. Taking into account the average cost of postal charges made to us, as well as processing, cutting, packing and administration.
Drop shipping is a supply chain management method in which the retailer does not keep goods in stock but instead transfers its customer's orders and shipment details to either the manufacturer, another retailer, or a wholesaler, who then ships the goods directly to the customer.
How do I know if my order is drop ship? Where you see another manufactures, suppliers or designers name displayed above the product titles, other than 'Natasha Makes' your order will be drop ship and delivered directly by another manufacturer, retailer, or wholesaler. 
A Drop shipped item can take up to 3 - 5 days on top of the estimated delivery time on all products.