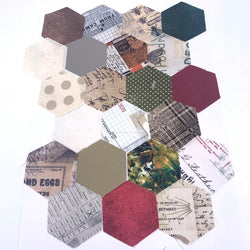 Pre-cut 1.5" Hexagons for English Paper Piecing: Tim Holtz and Moda
SKU: NM_30_7000439
For all your m
osaic or honeycomb patchwork needs, these pre-cut 1.5" hexagons will save time and allow you to get creating all your EPP projects instantly!
Pack contains a minimum of 22 x 1.5" pre-cut hexagons

From the Tim Holtz, Moda Grunge & Moda Bella plains collections

Everyone measures hexies differently... these measure 2" across (straight edge to straight edge) and each side is 1 1/8".  Take a look at the attached image.
Why not purchase our amazing leave-in foam Hexiforms for your next EPP project? We recommend the 3/4" (19mm) size.
Postage and packing is charged according to the weight of your parcel and will be calculated at checkout. Taking into account the average cost of postal charges made to us, as well as processing, cutting, packing and administration.
Drop shipping is a supply chain management method in which the retailer does not keep goods in stock but instead transfers its customer's orders and shipment details to either the manufacturer, another retailer, or a wholesaler, who then ships the goods directly to the customer.
How do I know if my order is drop ship? Where you see another manufactures, suppliers or designers name displayed above the product titles, other than 'Natasha Makes' your order will be drop ship and delivered directly by another manufacturer, retailer, or wholesaler. 
A Drop shipped item can take up to 3 - 5 days on top of the estimated delivery time on all products.