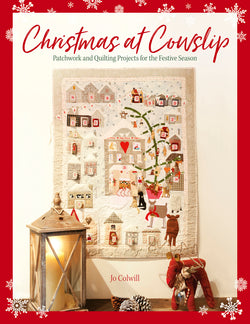 Christmas At Cowslip by Jo Colwill
SKU: 9781446309261
Patchwork and quilting projects for the festive season by Jo Colwill
Christmas at Cowslip is a compilation of the best festive sewing projects from Jo Colwill's two books, Cushions and Quilts and Patchwork Quilts and Gifts.
This collection of festive projects is the perfect resource for all your seasonal sewing. Whether you are making gifts for friends and family or sewing decorations for your own home, Christmas at Cowslip will get you in the festive mood. Choose from projects for cushions, pillows, quilts and even an advent calendar for counting down to Christmas day.
The projects are a combination of different techniques including simple patchwork, more advanced piecing, various applique techniques, hand and machine quilting and some additional hand embroidery. Some of the projects, such as the Scandinavian Horses pillow cover, are suitable for beginners, while others, like the Christmas Countdown and the Scandinavian Journey quilt, are suitable for more advanced sewers.
Jo's patchwork style is very distinctive because she uses lots of applique, both fusible web applique and hand needle-turn applique. Instructions for both techniques are included so you can choose the style you prefer. Jo use of recycled fabrics, meaning you can have lots of fun choosing scraps of your favourite fabrics to incorporate into the designs. There are step-by-step instructions and artworks for all the projects and the templates are included at full-size as digital downloads, ready to print out and start straight away.
About Jo Colwill
Kirstie Allsopp featured quilting expert Jo Colwill on her TV crafting series and accompanying books. Jo Colwill is an award-winning quilter and textile artist based in Launceston, Cornwall, where she runs her shop and workshop space Cowslip Worshops from her organic farm. She has been quilting and teaching for over 20 years and has built up a huge reputation within the quilting community. Jo's cushion and quilt workshops are hugely popular and this book will bring that experience to everyone in the comfort of their home.
Postage and packing is charged according to the weight of your parcel and will be calculated at checkout. Taking into account the average cost of postal charges made to us, as well as processing, cutting, packing and administration.
Drop shipping is a supply chain management method in which the retailer does not keep goods in stock but instead transfers its customer's orders and shipment details to either the manufacturer, another retailer, or a wholesaler, who then ships the goods directly to the customer.
How do I know if my order is drop ship? Where you see another manufactures, suppliers or designers name displayed above the product titles, other than 'Natasha Makes' your order will be drop ship and delivered directly by another manufacturer, retailer, or wholesaler. 
A Drop shipped item can take up to 3 - 5 days on top of the estimated delivery time on all products.