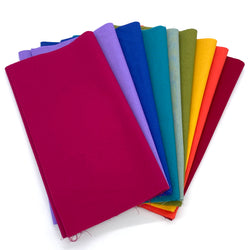 9 x LONG QUARTERS Cotton Plains for Shadow Box Quilt: Crimson, Hot Tomato, Gold, Sage, Misty Blue, Baltic, Copen, Amethyst, Sangria
SKU: NM_30_40008067
Multiple units will be cut as a continuous length unless requested otherwise.
You will receive nine long quarters, one of each of the following:

100% Cotton Plain in #33 

Crimson 

100% Cotton Plain in #19 Hot Tomato

100% Cotton Plain in #17 Gold

100% Cotton Plain in #66 Sage

100% Cotton Plain in #69 Misty 

Blue

100% Cotton Plain in #63 Baltic

100% Cotton Plain in #52 Copen

100% Cotton Plain in #37 Amethyst

100% Cotton Plain in #109 Sangria
In addition to this bundle, for the Shadow Box project, you will need long quarters of light grey, dark grey, medium grey and medium dark grey. Why not buy this month's long quarter plains bundle?
As seen o

n Natasha Makes, Wednesday 7th December 2022
Postage and packing is charged according to the weight of your parcel and will be calculated at checkout. Taking into account the average cost of postal charges made to us, as well as processing, cutting, packing and administration.
Drop shipping is a supply chain management method in which the retailer does not keep goods in stock but instead transfers its customer's orders and shipment details to either the manufacturer, another retailer, or a wholesaler, who then ships the goods directly to the customer.
How do I know if my order is drop ship? Where you see another manufactures, suppliers or designers name displayed above the product titles, other than 'Natasha Makes' your order will be drop ship and delivered directly by another manufacturer, retailer, or wholesaler. 
A Drop shipped item can take up to 3 - 5 days on top of the estimated delivery time on all products.