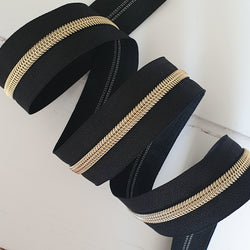 Zipper Tape BY THE METRE: Black with Gold Coil Teeth
SKU: NM_60_40003831
Sold by the metre
This is a nylon zip with #5 coil.  Perfect for bag making or applications where a heavier zipper is needed.  
Continuous zipper coil

Zipper pulls can be put on from either direction to make double-pull zippers

Cut them as long or as short as needed.

A range of other colours available - why not coordinate your zipper tape with your fabric and match your nylon coil teeth with your bag hardware?
Nylon teeth coil, so easy to cut and sew
Zipper pulls need to be purchased separately
To install the zip pulls to the zipper:
1) Open one end of the zipper by a few inches.  As the coil works both ways, it doesn't matter which end you open.
2) Holding the zipper pull with the round side down, slide one side of the zipper tape up into the slider.  Don't pull it all the way through; stop just when it catches inside.  Hold this with one hand.
3) Slide the other side of the tape up into the slider with the other hand.  Once you feel the resistance from the other tape, gently push both tape through the pull with equal pressure.  Once you can see both tape emerge from the other end of the pulls with teeth locked in place correctly, you can firmly pull the zipper pull down. 
Postage and packing is charged according to the weight of your parcel and will be calculated at checkout. Taking into account the average cost of postal charges made to us, as well as processing, cutting, packing and administration.
Drop shipping is a supply chain management method in which the retailer does not keep goods in stock but instead transfers its customer's orders and shipment details to either the manufacturer, another retailer, or a wholesaler, who then ships the goods directly to the customer.
How do I know if my order is drop ship? Where you see another manufactures, suppliers or designers name displayed above the product titles, other than 'Natasha Makes' your order will be drop ship and delivered directly by another manufacturer, retailer, or wholesaler. 
A Drop shipped item can take up to 3 - 5 days on top of the estimated delivery time on all products.