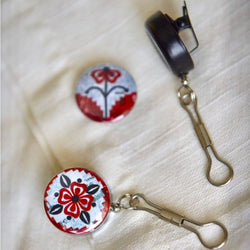 Zappy Dots: Zingers: Black
SKU: NM_60_40003574
These handy clip-on reels are the perfect accessory for quilters and stitchers who want to keep their small scissors on-hand at all times. Plus, when used with an interchangeable magnetic Dot, these accessories serve double-duty: The Dot's magnetic surface can be used to hold pins and needles as well!
Zingers are currently available in silver or black, and can be used with any of our ceramic magnets. Like our other accessories, our magnets sit on the face of the Zinger and wearers can swap between designs as desired.
Fun fact: Zingers are also great for nurses and other badge-wearing professionals!
*Please note that magnetic Dots are sold separately and should never be worn near a pacemaker.
As seen on Natasha Makes, Wednesday 4th August 2021
Postage and packing is charged according to the weight of your parcel and will be calculated at checkout. Taking into account the average cost of postal charges made to us, as well as processing, cutting, packing and administration.
Drop shipping is a supply chain management method in which the retailer does not keep goods in stock but instead transfers its customer's orders and shipment details to either the manufacturer, another retailer, or a wholesaler, who then ships the goods directly to the customer.
How do I know if my order is drop ship? Where you see another manufactures, suppliers or designers name displayed above the product titles, other than 'Natasha Makes' your order will be drop ship and delivered directly by another manufacturer, retailer, or wholesaler. 
A Drop shipped item can take up to 3 - 5 days on top of the estimated delivery time on all products.