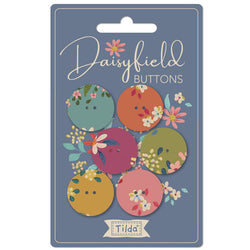 Tilda | Chic Escape Collection: 'Daisyfield' Fabric Covered Buttons 400047: 23mm
SKU: NM_60_40006031
Chic Escape is inspired by brave people saving and bringing life and laughter back to old forgotten homes, and all our shared interests in vintage fabrics, pottery and flowers.  A very special thanks to the wonderful people at Chateau de la Lande for all the joy and inspiration.
With its larger patterns and bolder, deeper colours, Chic Escape differs from other Tilda collections.  This is without a doubt the most labour-intensive collection in the history of Tilda fabrics.  The goal was to have the same level of detail in these larger patterns as in our small prints.  Daisyfield extras in 10 colours, designed using details from Wildgarden is a useful addition to the main collection.
Tilda have recently decided to divide the year into three collections; spring/summer and autumn/winter, with a special edition concept in between.  Chic Escape will be their first Special Edition collection.
Premium quality.
6 buttons
23mm size
100% cotton fabric covered buttons with metal core
Wash at 40 degrees
Postage and packing is charged according to the weight of your parcel and will be calculated at checkout. Taking into account the average cost of postal charges made to us, as well as processing, cutting, packing and administration.
Drop shipping is a supply chain management method in which the retailer does not keep goods in stock but instead transfers its customer's orders and shipment details to either the manufacturer, another retailer, or a wholesaler, who then ships the goods directly to the customer.
How do I know if my order is drop ship? Where you see another manufactures, suppliers or designers name displayed above the product titles, other than 'Natasha Makes' your order will be drop ship and delivered directly by another manufacturer, retailer, or wholesaler. 
A Drop shipped item can take up to 3 - 5 days on top of the estimated delivery time on all products.