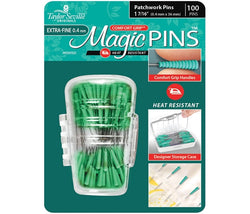 Taylor Seville: Magic Pins COMFORT GRIP 1 7/16" Patchwork EXTRA FINE 0.4mm: 50 pins
SKU: NM_60_40007594
Magic Patchwork Pins™ are great for a wide variety of projects. These smooth, sharp, professional-quality pins are 1 7/16" long. Featuring Taylor Seville's Comfort Grip™ handles, ​they're perfect for your patchwork projects and much more!
Unlike regular pins which can be difficult to find and handle, the large comfort grip handles of the Taylor Seville Magic Pins make them easy to find, pick up and remove from your fabric so that they do not scratch the underside of your iron. The Magic pins, which are heat resistant, are available in a choice of pack sizes in secure snap-close boxes for storage.
These patchwork pins are finer and smaller than the Taylor Seville Magic Pins we stock for Quilting.
0.4mm in diameter - EXTRA FINE*
36mm in length
50 pins per pack (not 100 as pictured)

*We also stock these in the FINE (0.5mm) thickness
Includes attractive designer storage case to keep your work area clean and organised
Postage and packing is charged according to the weight of your parcel and will be calculated at checkout. Taking into account the average cost of postal charges made to us, as well as processing, cutting, packing and administration.
Drop shipping is a supply chain management method in which the retailer does not keep goods in stock but instead transfers its customer's orders and shipment details to either the manufacturer, another retailer, or a wholesaler, who then ships the goods directly to the customer.
How do I know if my order is drop ship? Where you see another manufactures, suppliers or designers name displayed above the product titles, other than 'Natasha Makes' your order will be drop ship and delivered directly by another manufacturer, retailer, or wholesaler. 
A Drop shipped item can take up to 3 - 5 days on top of the estimated delivery time on all products.