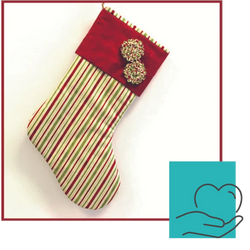 Natasha's Pay It Forward Project 14: Christmas Stockings
SKU: NM_50_40007364
Kindly note: this is a Delayed Despatch item.  Order yours now and it will be in the post to you before the demo on Friday 28th October 2022.
Project 14
Inspired by you, our viewers, Natasha launched her Pay it Forward initiative in 2021.  Join our virtual 'club' of charity makers with a different subsidised make offered each month.
You will receive instructions and fabrics at an amazing price - all that we ask is that you make something in order to pass on joy in some way.
You could create an item using your kit and gift it to a local charity or use your kit to teach someone else to sew...  If it brings or gifts joy to another, it fulfils the brief!
This month's project is Christmas Stockings.
In this month's pay it forward bundle, you will receive fabrics, fusible fleece, plus a print out of Leesa Chandler's free pattern. We intend to make our Christmas stockings and fill them with goodies to donate to those in need. Alternatively, why not take this opportunity to have a festive sewing get-together with crafty friends? Whatever you decide, thank you for joining us in Paying it Forward.
This make will be demonstrated in the OCTOBER Pay It Forward show, which will go to air on Friday 28th October 2022.
Postage and packing is charged according to the weight of your parcel and will be calculated at checkout. Taking into account the average cost of postal charges made to us, as well as processing, cutting, packing and administration.
Drop shipping is a supply chain management method in which the retailer does not keep goods in stock but instead transfers its customer's orders and shipment details to either the manufacturer, another retailer, or a wholesaler, who then ships the goods directly to the customer.
How do I know if my order is drop ship? Where you see another manufactures, suppliers or designers name displayed above the product titles, other than 'Natasha Makes' your order will be drop ship and delivered directly by another manufacturer, retailer, or wholesaler. 
A Drop shipped item can take up to 3 - 5 days on top of the estimated delivery time on all products.