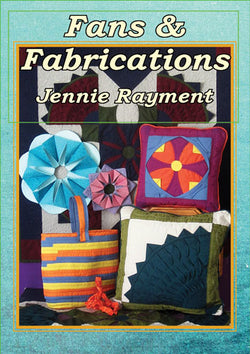 Jennie Rayment: Fans and Fabrications
SKU: NM_90_40003020
More fabric fun and pieceful play!  From fans to fancy fiddled fabrications and some material magic, here is a wealth of novel notions.  Get into garlands, dive into daisies and twiddle some tucks.  Ideal for all ages and abilities, this book will provide hours of fun and inspiration for future fabulous ingenious creations.  So experiment, explore and embellish for some fancy fiddles and fantastic fabrications

Many of the designs can be hand sewn, although use of a sewing machine is encouraged.
For accurate cutting of specific shapes and sizes, a rotary cutter, cutting mat and acrylic ruler are recommended.
48 pages
A4 - full colour photographs of every stage of design creation! 

As seen on Natasha Makes, Friday 24th June 2021
Postage and packing is charged according to the weight of your parcel and will be calculated at checkout. Taking into account the average cost of postal charges made to us, as well as processing, cutting, packing and administration.
Drop shipping is a supply chain management method in which the retailer does not keep goods in stock but instead transfers its customer's orders and shipment details to either the manufacturer, another retailer, or a wholesaler, who then ships the goods directly to the customer.
How do I know if my order is drop ship? Where you see another manufactures, suppliers or designers name displayed above the product titles, other than 'Natasha Makes' your order will be drop ship and delivered directly by another manufacturer, retailer, or wholesaler. 
A Drop shipped item can take up to 3 - 5 days on top of the estimated delivery time on all products.