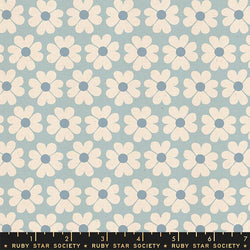 Jen Hewett of Ruby Star Society for Moda | Unruly Nature 'Heart Flowers' Polar 6011 19: by the 1/2m
SKU: NM_20_40006111
Jen Hewett put this collection together in the summer of 2020.  She had been sheltering in place for a few months during San Francisco's restrictions and the only consistency in her life was a daily walk through Golden Gate Park.  She was inspired by the way nature just did its own thing, despite everything that was going on.  Jen worked with three colour palettes based on the seasons - a dusty blue-ish Winter palette; a Fall palette or oranges and ochre; and a lush green and pink Summer palette.  There are also canvas prints in this collection, ready for all your bag making and home decor projects.  Why not cover a notebook, make tea towels, aprons or a new crafting bag?
Cut to order, sold in half metre increments and sent as one continuous length
Type of Fabric: 100% Cotton
Designer: Jen Hewett of Ruby Star Society for Moda
Origin: Made in Japan
Width: 43"-44" (approx 112cm)
Postage and packing is charged according to the weight of your parcel and will be calculated at checkout. Taking into account the average cost of postal charges made to us, as well as processing, cutting, packing and administration.
Drop shipping is a supply chain management method in which the retailer does not keep goods in stock but instead transfers its customer's orders and shipment details to either the manufacturer, another retailer, or a wholesaler, who then ships the goods directly to the customer.
How do I know if my order is drop ship? Where you see another manufactures, suppliers or designers name displayed above the product titles, other than 'Natasha Makes' your order will be drop ship and delivered directly by another manufacturer, retailer, or wholesaler. 
A Drop shipped item can take up to 3 - 5 days on top of the estimated delivery time on all products.