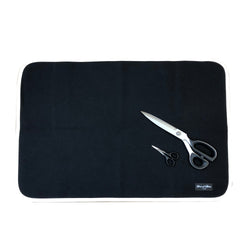 House of Alistair: Pressing Mat: Small (Black)
SKU: NM_60_40007653
Back by popular demand, we are delighted to bring you this House of Alistair traditional pressing mat in a choice of sizes: large is approx 72cms x 50cms, small is approx 42cms x 30cms.
Used by tailors on Savile Row - some of the mats are older than some of the 80 year old tailors themselves as passed down from 'Master Tailor' to student. This is a pressing mat that will last a lifetime!
100% wool
Flame resistant and can withstand hot irons
Conducts heat
Wash as wool
Bound edges to increase lifetime
Buy once
Grips your fabric for more control
Produces flatter seams
Ideal table protector
Transportable from home to class
Rolls or neatly folds away
Use on top of your cutting mat
No more getting up to use the iron - craft on the spot
Postage and packing is charged according to the weight of your parcel and will be calculated at checkout. Taking into account the average cost of postal charges made to us, as well as processing, cutting, packing and administration.
Drop shipping is a supply chain management method in which the retailer does not keep goods in stock but instead transfers its customer's orders and shipment details to either the manufacturer, another retailer, or a wholesaler, who then ships the goods directly to the customer.
How do I know if my order is drop ship? Where you see another manufactures, suppliers or designers name displayed above the product titles, other than 'Natasha Makes' your order will be drop ship and delivered directly by another manufacturer, retailer, or wholesaler. 
A Drop shipped item can take up to 3 - 5 days on top of the estimated delivery time on all products.