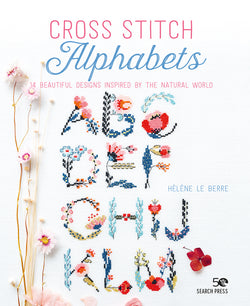 Cross Stitch Alphabets by Hélène Le Berre
SKU: 9781782219651
Accomplished cross stitch designer Hélène Le Berre brings you 14 stunningly beautiful alphabets to embroider.

All of the alphabet designs are inspired by natural themes, including birds, animals and flowers. There are comprehensive instructions and stitch charts for each one, plus ideas are provided on how to use the motifs to decorate projects such as a make-up bag, an apron and a tote bag. All of the essential techniques are given at the back of the book, making this delightful collection of embroidered motifs a must-have for beginners as well as more experienced stitchers.
Table of Contents
The embroideries 8
Animals: Light as a feather 10, All cats are grey in the dark 12, Centipede 14, A to Z notebook 16, Minute papillon! 20, Chatty as a magpie 22, 'Rêves' cushion 26
Plants: Touch me who dares 28, Grow like a mushroom 30, Carrot top 32, 'Initials' apron 36, Catch a falling leaf 38, Under the sun 40
Floral: Bells of May 44, Fresh as a daisy 48, 'Say yes' tote bag 52, Sakura 54, 'Toute belle' make-up bag 56, Blue flower 58
Charts 60, Techniques & making up 86, Stitches 88, Getting started 89, Equipment 90, Classic fabrics 90, Instructions for making up 92, Acknowledgements 96
About Hélène Le Berre
Hélène Le Berre is a talented designer who graduated from the Duperré School of Applied Arts. She has been creating her lovely embroidered designs since 2007. She loves to play with bright colours, joyful and delicate patterns and to tell a little heartwarming story through her work. Her favourite embroidery themes are flowers and stories for children.
Postage and packing is charged according to the weight of your parcel and will be calculated at checkout. Taking into account the average cost of postal charges made to us, as well as processing, cutting, packing and administration.
Drop shipping is a supply chain management method in which the retailer does not keep goods in stock but instead transfers its customer's orders and shipment details to either the manufacturer, another retailer, or a wholesaler, who then ships the goods directly to the customer.
How do I know if my order is drop ship? Where you see another manufactures, suppliers or designers name displayed above the product titles, other than 'Natasha Makes' your order will be drop ship and delivered directly by another manufacturer, retailer, or wholesaler. 
A Drop shipped item can take up to 3 - 5 days on top of the estimated delivery time on all products.