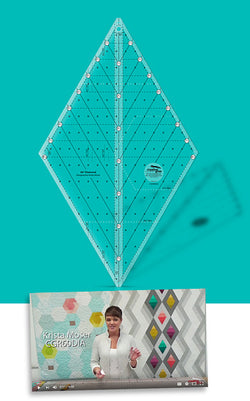 Creative Grids: CGR60DIA Non-Slip 60° Diamond 8.5"
SKU: CGR60DIA
Creative Grids Non-Slip 60° Diamond Ruler 8½" By Krista Moser
Increase your diamond design possibilities with the 60° Diamond Ruler.  Cut 60° diamonds up to 8½"; hexies up to 8½"; and 60° triangles up to 8½".  Maximize the design potential by cutting them from strip sets.  There are even markings included to cut 120° side setting triangles.  The ruler slides easily over the fabric until pressure is applied.  Then, Creative Grids' exclusive gripper holds the fabric in place while cutting, eliminating slipping and mis-cuts!  It comes with fully illustrated step by step instructions or scan the QR Code printed on the instructions to view a video demonstration.

About Krista Moser
Krista Moser is a quilting and fiber arts enthusiast. She has been teaching and designing for more than twenty years in the Pacific Northwest and anywhere they will have her. Her aesthetic can be described as fresh modern and approachable with clean lines and surprising simplicity. Her work has been published by Martingale Press, numerous quilting magazines.
As seen on Natasha Makes, Tuesday 25th May 2021.
Postage and packing is charged according to the weight of your parcel and will be calculated at checkout. Taking into account the average cost of postal charges made to us, as well as processing, cutting, packing and administration.
Drop shipping is a supply chain management method in which the retailer does not keep goods in stock but instead transfers its customer's orders and shipment details to either the manufacturer, another retailer, or a wholesaler, who then ships the goods directly to the customer.
How do I know if my order is drop ship? Where you see another manufactures, suppliers or designers name displayed above the product titles, other than 'Natasha Makes' your order will be drop ship and delivered directly by another manufacturer, retailer, or wholesaler. 
A Drop shipped item can take up to 3 - 5 days on top of the estimated delivery time on all products.