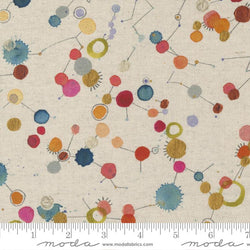 Create Joy Project for Moda | Chickadee 'Early Bound Splatter Mochi Linen' Natural 39733 11L: by the 1/2m
SKU: NM_20_40007767
"Chickadee is a design collection paying homage to my happy childhood connections to a few of the specific flowers, birds and bits of nature that surrounded my favourite places in the world - my home, my grandparents' gardens; and my neighborhood.
The flora and fauna that brought so much joy to my youth were iris blooms, roses of all kinds, oriental poppies, little orange California poppies, purple vincas, the dancing leaves of aspen trees, and the sweet trills of the Chickadee birds. They were a part of the quiet and beautiful music of the world around me. So anytime I hear the sound of the Chickadee bird in my hometown, I am flooded with memories, and reminded that they are still a grounding force to home, and a constant friend.
Each piece of this puzzle is full of emotions and deep connections to the people and places that shaped me as a person. I will always hold special place in my heart for each of these lovely parts of nature, and I hope they can become a positive new creative memory for you as well." - Laura Muir

Cut to order, sold in half metre increments and sent as one continuous length
Type of Fabric: 30% Linen, 70% Cotton
Designer: Laura Muir of Create Joy Project for Moda Fabrics

Range: Chickadee
Width: 112cm/44"
Postage and packing is charged according to the weight of your parcel and will be calculated at checkout. Taking into account the average cost of postal charges made to us, as well as processing, cutting, packing and administration.
Drop shipping is a supply chain management method in which the retailer does not keep goods in stock but instead transfers its customer's orders and shipment details to either the manufacturer, another retailer, or a wholesaler, who then ships the goods directly to the customer.
How do I know if my order is drop ship? Where you see another manufactures, suppliers or designers name displayed above the product titles, other than 'Natasha Makes' your order will be drop ship and delivered directly by another manufacturer, retailer, or wholesaler. 
A Drop shipped item can take up to 3 - 5 days on top of the estimated delivery time on all products.