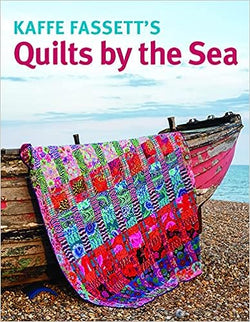 BOOK: Kaffe Fassett's 'Quilts by the Sea' *SIGNED COPY*
SKU: NM_90_40010360
We have a limited number of signed copies available! Buy now, whilst stocks last...
Kaffe Fassett's "Quilts by the Sea" with Liza Prior Lucy has a collection of 21 stunning new projects exquisitely photographed by
Debbie Patterson.

In this, Kaffe Fassett's 85th year, Quilts by the Sea celebrates the 25th edition of his annual Patchwork and Quilting books. Kaffe has chosen to photograph this special book in the English seaside town of Hastings, renowned for being the site of the battle when the Normans invaded Britain, and where Kaffe himself has had a much-loved seaside home for many years.  Kaffe says "Hastings, our location for this book, has a particularly good mix of the fun and the faded that makes it the perfect setting for our quilts".
To mark the celebration, Kaffe has taken a favorite patch-work design and block from a different past edition and reworked it in fabrics from his current collection, either as a delectable new quilt or, in three cases, as an eye-catching cushion, each inspired by the colors and atmosphere of the seaside. As ever, he is aided and abetted by Liza Prior Lucy and her team in the US and Janet Haigh and hers in the UK.
The resulting collection contains a wonderful array of designs, each in his trademark, mouth-watering color combinations that range from the pretty ice cream-colored strips of his Pastel Fiesta quilt through the delicate appliqué of Little Jars to the bold and simple contrast squares of Maroon Frame. The designs encompass a range of technical ability required from the simplest cushion to the most complex quilt.
As usual, this book includes a range of quilts for all skill levels, from beginners to advanced, and features an eclectic mix of patterns and colours ranging from Philip Jacobs' eye-catching bold floral prints to Brandon Mably's smaller-scale quirky patterns. Flat shots and a practical know-how section and glossary back up the fully illustrated, step-by-step instructions for each quilt, plus templates for each quilt.  A practical know-how section covers all the information needed by less experienced quilters.
Quilts: Water Garden  |  Jiggery Pokery Cushion  |  Little Jars |
Fruit Sorbet Cushion | Shady Par-Terre
Postage and packing is charged according to the weight of your parcel and will be calculated at checkout. Taking into account the average cost of postal charges made to us, as well as processing, cutting, packing and administration.
Drop shipping is a supply chain management method in which the retailer does not keep goods in stock but instead transfers its customer's orders and shipment details to either the manufacturer, another retailer, or a wholesaler, who then ships the goods directly to the customer.
How do I know if my order is drop ship? Where you see another manufactures, suppliers or designers name displayed above the product titles, other than 'Natasha Makes' your order will be drop ship and delivered directly by another manufacturer, retailer, or wholesaler. 
A Drop shipped item can take up to 3 - 5 days on top of the estimated delivery time on all products.